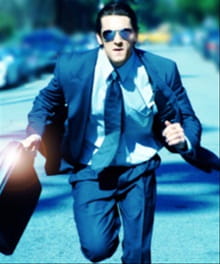 Editor's note: The following is a report on the practical applications of Os Hillman's book, Change Agent: Engaging Your Passion to be the One Who Makes a Difference, (Charisma House, 2011).
If you're a Christian, God has called you to be a change agent in the world, fulfilling His purposes wherever you go. Your story is so much more than your personal life; it's a vital part of the greater story of what God is doing in the world.
Stepping into your role as God's representative within your sphere of influence will unleash God's power all around you, changing the world for the better. Here's how you can become a change agent for God:
View yourself as a problem solver. God has created you and every other person on Earth with abilities to help solve the world's problems – and God wants you to fulfill your potential by using your life to solve problems as much as you can. Keep in mind that people are constantly looking for visionary people who can provide solutions to the problems they face. As a Christian who can operate in the power of the Holy Spirit, you can be such a person.
Eliminate the divide between sacred and secular work. Realize that, from God's perspective, all work is sacred when the people doing it are using their talents and skills to accomplish God's purposes for their lives. No matter what type of work you do, your work can significantly change the world for the better when people see you working with God's purposes in mind.
Prepare for your assignments well. When God recruits you for an assignment, He will train you for it in a way that best prepares you to handle the assignment's demands. God may choose to bring hardship (such as a crisis) into your life, separate or isolate you from relationships you'd previously depended on, or require you to wait for a season – all to test and strengthen your faith. Be sure to yield your vocation to God, inviting Him to work in your life however He chooses. Keep in mind that God calls change agents to operate from a place of weakness – not strength – so that they'll rely on the greater power of God working through them. Ask God to get rid of any pride in your life that is interfering with His purposes for you. Spend time with God often in prayer and reading His Word, the Bible, to strengthen your relationship with Him and learn how to discern His voice and listen to His messages for you.
Engage in spiritual warfare with confidence. The greater the level of assignment God gives you, the more spiritual warfare will take place over you. Satan and other demons from the evil side of the spiritual realm may try to interfere with your work for God by pressuring you to focus on your own performance rather than God's grace working through you or by distracting you through sexual lust or the pursuit of money and possessions. Avoid those traps by pursuing humility, generosity, and accountability each day as you do your work for God. Pray regularly for spiritual protection. Use the authority you have in Christ to rebuke evil whenever you encounter it, and keep in mind that good is always stronger than evil.
Band together with others who are working to fulfill similar callings from God. Seek out a few other people whom God has called to focus on some of the same areas as you're focusing on in your own work to change the world – those who are working toward similar goals, for similar causes. Band together to support and encourage each other. Keep in mind that you can accomplish more together than you can alone.
Help change the family. Help build stronger families however God leads you, such as by being the best spouse and parent you can be and investing time and energy into relationships with people you need who could use encouragement and support for their families (such as single parents).